by Jaime Grijalba.
Since right now I'm under a severe case of flu, I decided to post a quickie for today. The top 10 films of 2013 so far and some quick words if available, if not… well, screw you then. (Sorry, it's the flu speaking).
10. Upstream Color (Shane Carruth)

I know how people can fall in love with this film: it's beautiful and it can surely be complicated on a first look, but at the same time it has a straightforward story if we take everything we see as real (except in the moments in which the conscience of the characters is altered), which I won't bother explaining here, but it's quite interesting in its repercusions and its power to alter someone's mind thanks to a drug/living organism. The cinematography is something out of this world, completely worth any future nomination in any competition in the future, specially in my favorite part: when we see the decomposing pigs and we return to the beginning of the film and we see how everything in the movie is just a small fraction of something much more important: a circle of life, a movie about biology is ok, I guess.
9. Tiempos Malos (Cristián Sánchez)
Chilean film, still no official premiere date, private screening, awesome. Moving ahead.
8. Il Futuro (Alicia Scherson)
I reviewed this particular chilean-italian film for my blog right here.
7. Garden of Words (Makoto Shinkai)
A short incredible work by a good anime director. I wasn't a fanatic of 'The Children Who Chase Lost Voices" though I did like it a bit, and while this doesn't have the emotional power and visual craft of his earlier shorts, this has the same spirit and tone as those films. I think Shinkai works much much better with shorter lengths. The romantic plot here works very very well, and Shinkai knows how to pull the emotion strings just at the right moment. One of the best things of 2013.
6. Barroco (Estanislao Buisel)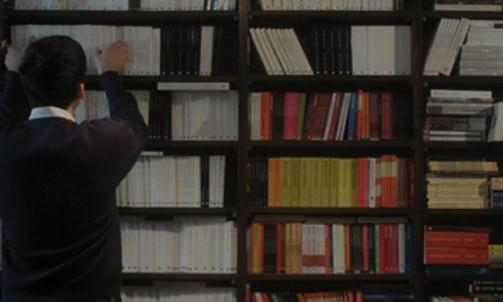 I reviewed this argentinian film that I saw at Bafici at my blog right here.
5. Nobody's Daughter Haewon (Hong-san Soo)
For sure Haewon must be one of the best films Hong has made to date, and I say this without seeing the rest of his ouvre as of yet (only this, the other mentioned earlier and his 2012 effort 'In Another Country' (2012) ). It's different and at the same time recognizable as a film of him, he goes beyond anything that I've seen before coming from him, there's an initial energy and joy, no matter how sad and desolate the actual situations are. Haewon is a nobody's daughter in the sense that her father is not korean, and her own mother is now leaving Korea to live forever in Canada, now she at the same time is different from her friends and companions, just because she lived abroad during her first infancy, she picked up certain gestures and attitudes that aren't usual nor polite to do in South Korea, specially when it comes to public affection, food manners and how a lady should be in front of others, she is deemed strange and akward from a Korean standpoint, and the only thing that they think that suits her is to leave the country to live somewhere else, maybe even marry someone in the United States, a possibility that seems more near than a fantasy in this movie, where she tries to find her own traditions and roots in the korean culture at the same time as she feels alienated by her own self and her love affair with a film director who at a time was her teacher. A complex movie that needs to be seen a couple of times, but you can already feel its brilliance.
4. Trance (Danny Boyle)
I don't know if much has been written about this film, but I've had an insane curiosity for reading about what people think of this movie more than anything, and I've read reports from both sides, those thinking that is a great movie and those who think that it's shit. As you might notice, I'm not with the latest group, as I think that this is maybe one of the most impressive visual experiences in theater that I've had this year, surpassing the 3D screening I had of 'Life of Pi' (2012) earlier this year. This movie is like a reel, but at the same time it has a complicated brain puzzle that makes you think and keeps you alert at any choice that the camera makes, every light or character placed within the frame in a specific manner is Boyle's way of telling us about the state of mind of every character in the film, and seeing a movie with so much visual flair but at the same time with so much thought put into it, with such a perfect way of blocking a scene, that it just makes you happy, it was a great time at the movies and I want to see it again!
3. Top of the Lake (Jane Campion and Garth Davis)
Impressive. I mean, how can we have something like this in television and not make everyone crazy? It's a miniseries, sure, it's maybe the only reason why I watched it and followed it every week: because I knew it was going to be a narrative that would end after 5 weeks. Why are we praising things like Mad Men or Breaking Bad when they aren't narratives that have been set since the beginning but that they've been given the chance to expand and grow upon its original conception thanks to the extension of the contrats via the television networks. This is a mystery that has a clear answer, yet at the same time it gives its mysterious vibe throughout the series and it continues its charm even after it ended, it's one of those that you can't really comprehend why but you shiver and enjoy every second of it. Sure, it's a bit episodic, but it's because it was thought that way beforehand, and there's always an advance in some way or another regarding the mystery or the characters who conform it and form part of it. This is one of the best experiences of 2013.
2. Stoker (Chan-wook Park)
Naming this among the least effective works of Chan-wook Park wouldn't be far from the truth, specially when you take into consideration the amount of masterpieces that the korean director has under his belt. But at the same time, ignoring that this is among the best works of this year and maybe the most impressive debut in a foreign language that any director has ever done in the history of film (I may be exaggerating here, but what can I say, I love Park). This movie is a tense psychological test to the senses and to your own soul, directed with a clean and at the same time sinister visual style that at times rivals the references made to the masterful director Alfred Hitchcock. The movie is dark, of course, it has to be, it's Park, it's devoid of any feeling, the characters are irrational, they react with bloody vengeance when they are put in the corner and with the oportunity to do so. It has one of the most beautiful and horrific endings that I've seen in cinemas in a long time, and I really wish I could see this at a theater, it's just that amazing.
1. The Grandmaster (Wong Kar Wai)
The only masterpiece of 2013 so far. I can't wait for this to be seen more widely and loved as much as I do. Nuff said.
Awards so Far:
· Best Art Direction: The Grandmaster
· Best Action Coreography: The Grandmaster
· Best Dance Coreography: Los Amantes Pasajeros (I'm So Excited)
· Best Cinematography: The Grandmaster
· Best Costume Design: Behind the Candelabra
· Best Film Editing: Upstream Color
· Best Makeup: V/H/S/2
· Best Score: Pacific Rim
· Best Acting Ensemble: Side Effects
· Best Female Lead: Mia Wasikowska – Stoker
· Best Male Lead: Michael Douglas – Behind the Candelabra
· Best Female Supporting: Nicole Kidman – Stoker
· Best Male Supporting: Peter Mullan – Top of the Lake